Top 5 Growing Tips From Star of "Heirloom"
Actress and organic tomato farmer, Paten Hughes, co-creator and star of the hit digital series
Heirloom
on Vimeo, shares her top five tips to planting your own tomato garden, below. More about the series below that.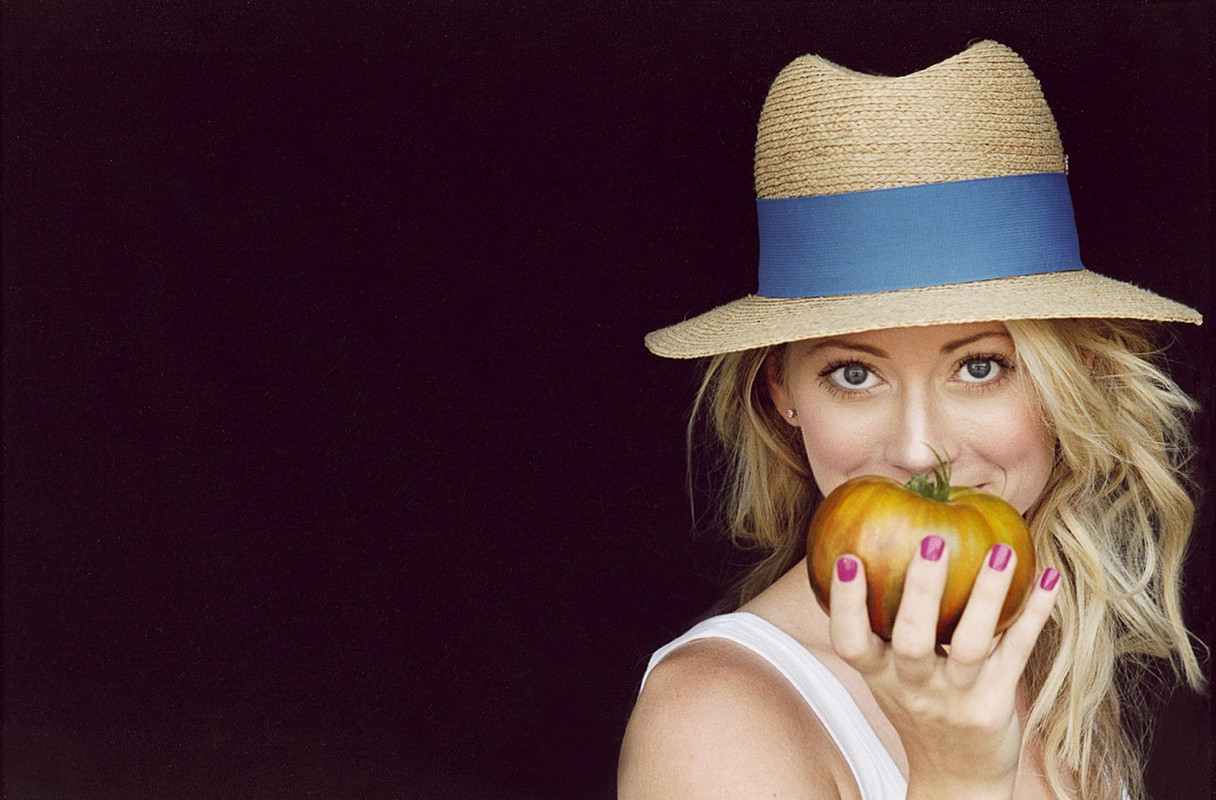 ■ When buying your starter plants, pick varieties you haven't heard of and give yourself room to experiment. You'll learn what grows best in your plot. I try to stay away from Brandywines... they aren't the most fruitful variety for me. I might have a few come in at the end of July, but that's about it. Try Mariana's Peace (smaller than brandywines, but a similar taste) and Sun Golds cherry tomatoes.
■ Pluck off the bottom leaves of the plant shoot so that the leaves start a few inches above the ground. You don't want the leaves touching the dirt if possible: and you also don't want your plant to be bottom heavy! Not only will this help prevent any sort of mite from eating away at the leaves, it will also help train the vine so that your tomatoes begin forming higher up and away from the ground. (Note: when your tomatoes start coming in, you don't want them touching the dirt either. If that does happen, prop them on top of a stone or brick until they finish ripening.)
■ Don't overwater! A lot of people assume tomatoes need a ton of water, but they thrive with lots of dry heat. I use a drip irrigation set to drip water by each plant for 5 minutes a day. Of course, my 'maters are in a very hot Sonoma County, so it's going to be different in Georgia or Oklahoma. If there does happen to be some rain, I cut the irrigation for that day.
■ Mark what varieties you plant so that you can keep track for next season. Sometimes it just requires changing up the location in your garden plot to know whether a variety will thrive with you or not. The famed Lynn Brown (played by Tom Wopat in HEIRLOOM) made me keep planting Indigo Rose's for several seasons, insisting it was the trendy tomato. I finally changed up the corner of the garden, and indeed the tomatoes finally fully ripened and were bountiful. Persistence pays off.
■ Rip out your plants at the end of each season (December, for me): just because you might get tomatoes from last year's plant doesn't mean you should. Heirlooms are extremely susceptible to soil disease, so you should be using new plants each season. Change up your soil each year, as well, or at least mix in a bunch of new soil. If you're planting in the ground rather than pots (which is better!), move planting around every two years to give the soil a rest.
About Heirloom

Heirloom, A New Romantic Comedy About Farm-Table Millennials Grows To Nearly 4M Views
Digital Series Stars Paten Hughes, Margaret Colin, Tom Wopat, Ryan Cooper, John Lavelle, Luis Vega and Pascale Armand
Heirloom, an original digital series is proving to be a hot hit and is celebrating reaching nearly four million views. The aspirational romantic comedy follows a young woman who rediscovers herself after inheriting a small plot farm in Sonoma County California. Her journey back to the small town lifestyle and new circle of farm-table friends is complicated only by a love triangle, small business start-up challenges, and grower learning curve. All nine, 10-minute season one episodes are available on Vimeo:
http://vimeo.com/channels/heirloomtheseries
.
Inspired by the real-life experience of co-creator and series star Paten Hughes, Heirloom was filmed on Hughes' actual organic heirloom tomato farm in Sonoma and features her real produce, chef customers, and beloved dog, Spencer.
The new series brings together a cast whose credits span stage, screen, and television. Penned by playwright and TV writer
Bekah Brunstetter
(
This Is Us, Switched-at-Birth, American Gods
) and directed by
Michael Melamedoff
(
Weakness, TruTV's The Problem with Apu
) Heirloom follows down-on-her-luck actress Emily (star Paten Hughes, one of the original members of Kevin Spacey's Old Vic New Voices Network) through a series of horrific auditions until her mom (
Gossip Girl
's Margaret Colin) calls with the news that her Uncle Bob has left her his farm in Sonoma. Emily leaves her depressed writer-boyfriend in New York (played by the ingeniously sarcastic John Lavelle, Selma) to head west with her dog Spencer as she re-invents herself as a tomato farmer. Her new tomato farm soon yields new friends, new business, and a new shot at love. Heirloom also stars Ryan Cooper (upcoming
Rock That Body
), Pascale Armand (Tony Nomination for
Eclipsed!
), and Luis Vega. Tom Wopat (
Dukes of Hazard
) takes a turn as famed farmer Lynn Brown.
Director Melamedoff helmed an all-female camera crew in the Sonoma unit, cinematography by Kat Westergaard (Lovesong, Sundance 2016), production design by Angel Herrera, and featuring original music by Laura Brenneman. Julie Crosby, Paten Hughes, Kevin Kinsella, James Richard, and Brooke Stevens are producers.