Tips for Those Attending Their First Convention
Next month (May 12-14th, 2017), the ultimate Vegas Gaming and Anime convention is coming to Vegas!
LVL Up Expo
is a non-profit gaming convention, covering various gaming platforms, technology, design, and anime! This year will be their fifth year in Vegas. Check out the
Las Vegas travel deals
for the best flight and hotel packages!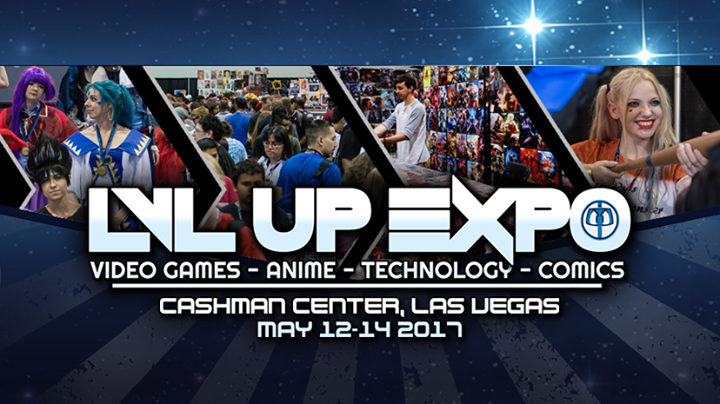 I've been attending Anime conventions for the past few years now and I really enjoy it. I've been only attending as part of the media doing photoshoots, photography, and documenting. I enjoy connecting with artists and cosplayers and to learn more about the anime characters and the materials people use for their props and clothing. I still have yet to participate in cosplaying for fun -- one day.
I'd love to share my tips for those who are attending their first convention.
WHAT TO EXPECT AT YOUR FIRST CON
Check the Convention Website
So you're attending a convention for the first time and you're wondering what you will see or what events are happening. The convention or expo would have a program schedule posted on their website, usually the day before. Look through the exhibitor list and guest list and find out which type of passes are more suitable for your interests, whether it's a one-day pass or a weekend pass.
Large Crowds
Big conventions are always going to be crowded with lots of people. For multiple day conventions, usually weekdays are less crowded. If you do go on a weekend, attend at an earlier time. If your local convention is near a mall, expect the food courts to be crowded as well.
Celebrity and Guest Appearance Panels
Panels are always a popular one. Make sure to go early to ensure a good spot. It is possible that the doors will close once capacity is reached.
Vendor Exhibits
Vendor exhibits and booths are fun to check out the cool stuff like collectibles, toys, comics, clothing, crafts and original artwork from talented artists. Bring some cash with you in case you decide to score a rare item. If there is something you really want, take advantage of the discounts or promotions that vendors offer only during the convention. Did I mention it gets crowded?
What should you wear?
There's lots to see and you'll be walking lots, so wear shoes that are comfortable. There aren't really anywhere to sit, except I've seen people sitting along the side in the hallway. The only place you can sit and relax is at a cafe if your local convention has one inside. Now's your chance to wear that geeky or comic shirt you might have hiding in the back of the closet.
If you are cosplaying (and you're wearing heels), bring an extra pair of comfortable shoes. Like I said earlier: lots of standing and walking.
What items should you bring along with you?
Charge up your phone or bring a portable charger if you have one. Bring a camera for photo ops and/or cosplay photography. Remember to ask the cosplayer first if it is ok to take their picture. Also, whether you're in costume or not, make sure your weapon prop meets the safety guidelines and always follow the convention's rules (posted on their website). Respect others, have fun and connect with new friends.