Recipe: Southern Italian Turkey Pasta Puttanesca
I remembered the first time I prepared
roasted whole turkey
on my own, it turned out pretty good. It was time-consuming because I was doing this all on my own (with a bit of help from little one). I didn't like all the leftovers. I ended up packing them in containers and froze them. Some I gave to my parents when I visited them. With the leftovers, I made congee, soup, and even stir fry with vegetables.
Here's a new recipe idea for me that I recently learned. It's so simple and so delicious.
INGREDIENTS:
2 cups grape tomatoes
1 tsp olive oil
3 cloves garlic, crushed
5 anchovies, finely chopped
2 turkey sausages
2 tbsp capers
½ cup sundried olives, chopped
2 tbsp fresh basil, chopped
1 tsp hot pepper flakes
350 gr pasta
8 cups water
1 tbsp salt for pasta water
1 tbsp olive oil
3 tbsp grated Parmesan cheese
Salt and pepper to taste
PREPARATION:
Season tomatoes with olive oil, salt, and pepper.
Broil in the oven on the middle rack for 8 – 12 minutes until soft and lightly browned.
Bring 8 cups water to boil; add salt.
Add pasta and follow package instructions. Cook until al dente.
Very important: reserve 1 cup pasta water and set aside.
While pasta is cooking, heat ½ tbsp olive oil in a frying pan over medium heat.
Remove casing from sausage and break up into 1-inch pieces. Add to pan and cook until browned and cooked through.
Add anchovies and garlic and cook until anchovies dissolve and garlic is cooked through 2-3 minutes.
Add roasted tomatoes.
Add olives and capers.
Remove from heat.
Add pasta directly to saucepan.
Add ½ cup of the reserved pasta water and toss.
Add fresh basil, hot pepper and, ½ tsp olive oil.
Add up to ½ cup of additional pasta water, a little at a time, if pasta begins to dry out.
Garnish with parmesan cheese and serve immediately.
TIP:
This dish works well with leftover turkey too. Just substitute the sausage for some cubed or shredded turkey breast or thighs for an equally delicious pasta dish.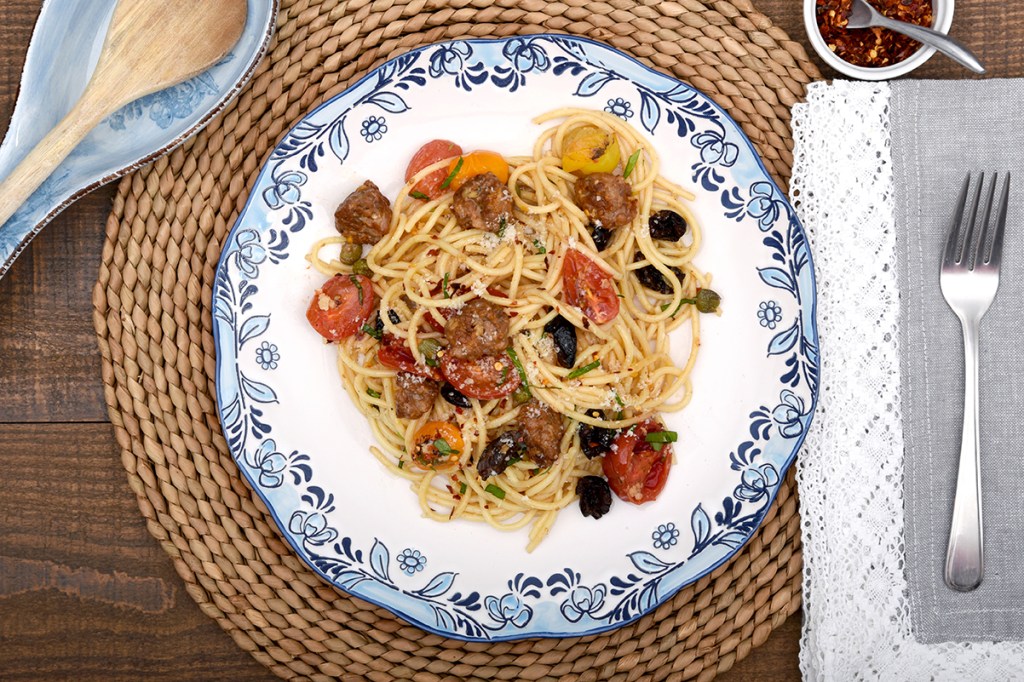 This post has been brought to you by Canadian Turkey. All opinions are my own. For more tips and recipes, visit www.canadianturkey.ca