Mural by Sir Peter Blake Unveiled at West Hollywood Elementary School
Sir Peter Blake serves as honorary President of The Arts Club and is widely known for the iconic album cover he created for The Beatles' Sergeant Pepper's Lonely Hearts Club Band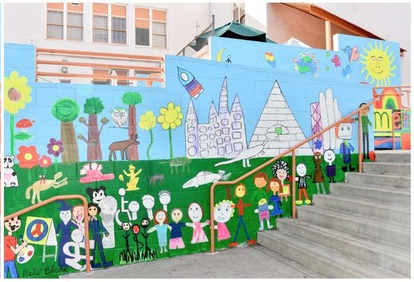 WEST HOLLYWOOD, CA – The Arts Club, London, and West Hollywood Elementary School unveiled today a large-scale mural envisioned by world-renowned British pop artist, Sir Peter Blake, as part of The Arts Club's ongoing community engagement and outreach program. The Arts Club, which provides a meeting place for people interested in arts, literature, and sciences, plans to open its first U.S. location in West Hollywood in 2020 with a multipurpose gallery space for art events, educational programs, and exhibitions that will be free and open to the public. The Arts Club also pledged to contribute $1 million dollars total over the next 10 years to support the presentation and expansion of the arts in West Hollywood following the proposed club's opening.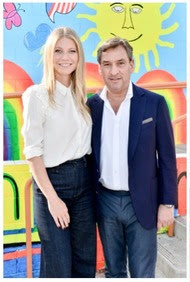 The Blake-designed mural is a collage of more than 80 works submitted by first through fifth grade students following an invitation to illustrate themes such as diversity, creativity, and innovation, and then interpreted by Sir Peter. It was painted on-site by local artist Debi Cable. Students who participated in the program joined with parents, community leaders, and local artists on November 17 to celebrate the unveiling of the public artwork they helped inspire.
The Arts Club was founded in 1863. It served as an important hub for the creative arts in the 19th century for the likes of Charles Dickens and Anthony Trollope, two of its founding members, as well as luminaries such as Edgar Degas, Claude Monet, Auguste Rodin, James McNeill Whistler and more. Today, the club resides in Mayfair, London, and its permanent art collection as well as rotating exhibition program remains an active part of its identity.
As part of its growing mission, The Arts Club has sought to cultivate partnerships with local organizations in and around its future outpost. Leading these efforts has been the Club's executive director, Alice Chadwyck-Healey, who says: "I was fortunate enough to meet Principal Pannell of the West Hollywood School on one of my early visits to the West Hollywood neighborhood and was immediately struck by his obvious passion for, and support of, the arts. We look forward to working closely with the School on a long-term basis. Philanthropy, education, and engagement with the arts are critical components of The Arts Club's DNA, and we are excited to kick off our long-term support of the arts in West Hollywood with this project. As our honorary President and a long-time member of the Club in London, Sir Peter Blake was the perfect artist to collaborate with on this initiative."
Sir Peter Blake, 85, is a one of the best-known British artists of his generation and a contemporary of such lauded artists as David Hockney and Richard Hamilton. He was a prominent figure in the pop art movement in the early 1960s and 70s, and is widely recognized for the iconic album sleeve he created for The Beatles' Sergeant Pepper's Lonely Hearts Club Band in 1967. Sir Peter Blake, 85, said of the project, "I am pleased to have worked on this very special project for the West Hollywood Elementary School. Seeing the creativity of all the children involved was such a joy and I hope the resulting artwork, which I developed using their original ideas and creations, will brighten up their school days and serve as a reminder of their vast imaginations."
About Sir Peter Blake
Sir Peter Blake (b. 1932, Dartford, U.K.) is a British painter, sculptor, draughtsman, and printmaker. He is known as one of the leading figures of British pop art. Blake studied at Gravesend School of Art before being accepted into the Royal College of Art, London, where he studied alongside other artists such as David Hockney, R.B. Kitaj, and Joe Tilson. Upon graduation in 1956, he began to appropriate pop culture icons and advertising imagery to create homages to the likes of Marilyn Monroe, Brigitte Bardot, Elvis Presley, and professional wrestlers. His iconic 'Self-portrait with Badges' (1961) in the Tate Collection shows Blake holding an Elvis album and dressed in American jeans, Converse shoes, and baseball badges. In other works, he composes assemblages of found objects with humorous allusions to art history and childhood fantasies. In 1967, he designed the well-known album cover for The Beatles' Sgt. Pepper's Lonely Hearts Club Band in his distinctive style of collage. He continues to be associated with the music world by designing album covers, including the alum art for Band Aid's single "Do They Know It's Christmas?"
After completing his National Service with the Royal Air Force, he received the Leverhulme Research Award to study popular art and traveled through Europe in 1956-57. Blake's first one-man exhibition was held in 1962 at the Portal Gallery, London; solo shows followed at the Robert Fraser Gallery, London (1965) and at Leslie Waddington Prints, London (1969). His first retrospective exhibition was held as early as 1969 at the City Art Gallery, Bristol. Subsequent retrospectives were held in 1973 at the Stedelijk Museum, Amsterdam, touring to Hamburg, Brussels, and the Tate Gallery in 1983. In 1994, he was made the Third Associate Artist of the National Gallery, London. Blake was elected as a member of the Royal Academy in 1981 and knighted in 2002. In 2007, the Tate, Liverpool, held a major retrospective of his work, which toured to the Museo de Bellas Artes in Bilbao, Spain, in 2008. In 2010, Lund Humphries published Peter Blake: One Man Show, a comprehensive monograph of the artist's work by Marco Livingstone. Sir Peter Blake lives and works in London.
About The Arts Club
The Arts Club was founded in 1863 by Charles Dickens and Lord Frederic Leighton in order to provide a haven for those who had professional or amateur relationships with the Arts, Literature, or Sciences, and it has provided this hospitality and friendship ever since. In 1896, the Club re-located from its original home on London's Hanover Square to its present 18th-century townhouse at 40 Dover Street, affording its members a comfortable and impressive base in Mayfair. It has survived two world wars, including a direct hit on the building during the Blitz of 1940.
In the course of its existence, the Club has included amongst its members many outstanding figures in the history of Art, Literature, and Science, including: writers such as Charles Dickens, Wilkie Collins, and Thomas Hughes; musicians such as Paolo Tosti, Charles Halle, and Franz Liszt; and artists such as Frederic Leighton, Walter Sickert, John Everett Millais, Auguste Rodin, and James McNeill Whistler. Today, the principal areas of interest amongst the current members are art, architecture, fashion, film, literature, music, performance, photography, science, theatre, and media. It proudly continues to be a hub for creative and entrepreneurial patrons to come together to meet, exchange ideas, dine, and participate in the thriving cultural arts and events programming. The Club's art collection remains at its very core, highlighting international trends, as well as maintaining a focus on British-based artists. The permanent collection includes work by Tomas Saraceno, John Baldessari, and John Stezaker, which sit alongside both the Club's historic collection and a series of temporary exhibitions that change throughout the year.

About Debi Cable
Debi Cable is a Los Angeles-based artist known for her hand-painted fluorescent murals and immersive, architectural environments enhanced by her signature Blacklight & 3D Glasses. Cable is a former resident of the downtown Los Angeles Brewery Art Colony, and a co-founder and curator at Pershing Square's Art Squared Gallery. She also serves as the Burning Man Regional Art Director for Los Angeles. . Her work has been featured at music and art festivals around the United States, including Lightning in a Bottle, Electric Daisy Carnival Las Vegas, Beyond Wonderland, and has installed major works at the Playboy Mansion Halloween events, as well as the Beverly Hills and Lancaster Museum summer residency.