Gifts For Him: Martial Vivot's Hair Products & Tools
We have a wonderful gift idea for the man in your life for this holiday season. Check out Martial Vivot's line of hair products & tools. The full line includes Shampoo, Conditioner, Gel, Creme, Paste, Beard & Face Oil, and Beard Brush (which is perfect for dads, husbands and boyfriends). Best part of all is that the whole line is perfect for both men AND women — if your guy is willing to share! In case you haven't heard the most exciting news yet... the line is officially available on
Sephora Canada
's website (
here
).
The Martial Vivot grooming line is completely eco-friendly and formulated with all-natural, organic, plant-derived ingredients — including organic aloe vera base to hydrate and condition, pure plant oils of cannabis, organ and jojoba to restore and replenish, quinoa and bamboo amino acids to strengthen and repair, and pure essential oils of frankincense, rose geranium and bergamot to revitalize and balance.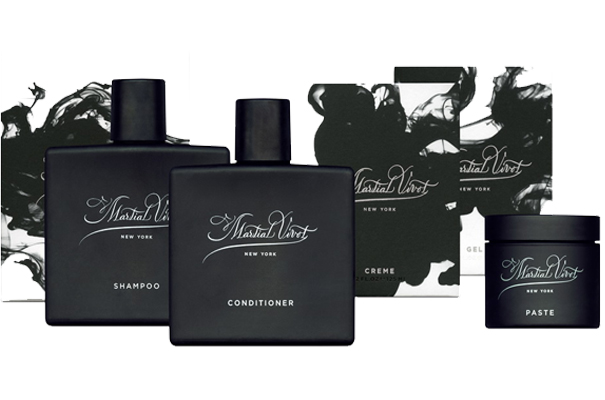 Martial Vivot Shampoo - An energizing shampoo that balances sebum, promotes healthy hair growth, and densifies the hair. ($48 Cdn; 7.3 oz/ 215 mL)
Martial Vivot Conditioner - A nourishing and hydrating conditioner that densifies and strengthens the hair, while promoting healthy hair growth. ($50 Cdn; 7.3 oz/ 215 mL)
Martial Vivot Paste - Good for various hairtypes whether it is straight, wavy, curly, coiled, or tightly coiled. This hair paste adds body, volume, and hold without being stiff. ($38 Cdn; 2 oz/ 57 g)
Martial Vivot Beard & Face Oil - A beard and face oil that conditions and moisturizes, promotes healthy beard growth, improves shine and manageability, and protects and smooths. ($55 Cdn; 1 oz/ 30 mL)
Martial Vivot Crème - A styling crème that nourishes the hair while improving manageability. ($35 Cdn; 4.2 oz/ 125 mL)
Martial Vivot Gel - A non-drying styling gel that promotes healthy hair. This luxurious gel provides maximum hold to maintain style, adds sheen, nourishes, and moisturizes. It promotes healthy hair growth and inhibits graying. ($35 Cdn; 4.2 oz/ 125 mL)
Martial Vivot Natural Bristle Beard Brush - A beard brush handmade from natural bristle and wood that is designed to groom the beard without scratching the face. ($35 Cdn)
The Martial Vivot Grooming Line for Hair is an essential grooming tool for the modern, sophisticated, successful gentleman of today.