Award-Winning Randy Kaplan's 6th not-JUST-for-kids album: "Trippin' Round the Mitten"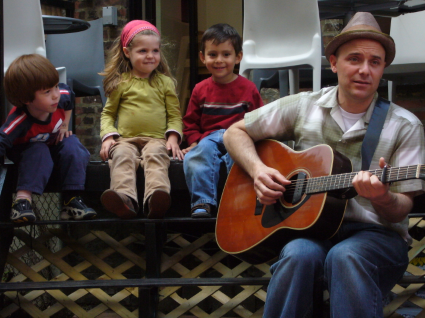 Award-winning singer-songwriter,
Randy Kaplan
, has put his love of Tin Pan Alley, folk, rock. blues, ragtime, bluegrass, and Broadway music on display many times before. Now, with his 6th not-JUST-for-kids album,
Trippin' Round the Mitten
, he adds hip-hop, pop, doo-wop, and punk to the list.
As indebted to the Marx Brothers and Steve Martin as he is to Robert Johnson and Woody Guthrie, Randy Kaplan's blend of American Roots music and comedic storytelling has inspired the likes of NPR, The Nashville Blues Society, and People magazine to name him one of the nation's top family entertainers.
Randy Kaplan
moved to the suburbs of Detroit two years ago and has already toured or "tripped" around the mitten-shaped state of Michigan many times. Don't expect a Wolverine State travelogue from
Trippin' Round the Mitten
, though. The rambling that goes on in this album is a stream of consciousness collection where Randy raps and sings his way through songs and parodies about noses, mitten-shaped states, beach antipathy, doo-wop kings, food costumes, sugar traps, Mars missions, and more.
Trippin' Round the Mitten
features the radio hit "
On the Phone on the Toilet
," which was released as an advance single and rose to #2 on the SiriusXM Kids Place Live "13 Under 13" chart, remaining there for 11 weeks. A second single from the record, "Mr. Spaceman," peaked at #1 on the chart. The song riffs on the Holy Modal Rounders' parody of Johnny Cymbal's "Mr. Bassman," changing it to a tongue-in-cheek lament from a father who expresses jittery reservations about his son's plan to join Elon Musk's mission to colonize Mars.
Known as much for his "eclectic" (OWTK) and "inspired" (Parenthood) parodic covers as for his highly original comedic story-songs, Randy Kaplan takes off on the Maroon 5 mega-hit "Sugar" (exchanging the concupiscence of the original for the tale of an offspring's demand for actual sugar in the form of cookies and candy). Eleni Mandell's honky-tonk number "Tell Me Twice" is transformed into the album's rollicking eponymous track, a personal account of Randy setting off on a one-week concert tour of Michigan and missing his wife and son while he's away.
Like his earlier albums, Trippin' Round the Mitten contains the skits and dialogue woven into boundary-pushing original numbers that Randy Kaplan fans have come to expect, including "Honk Honk" (a rap about the many attributes and liabilities of the nose, which opens with eclectic references to Ambrose Bierce and Dmitri Shostakovich) and "Cat & Mice" (which begins with a reference to jazz master John Coltrane over a free jazz background).
A three-time recipient of the ASCAP Plus Award, Randy has released six family albums (independently and with Universal Music and My KaZoo Music) and eight albums for adults. His work has been awarded top honors by NAPPA (National Parenting Publications Awards, now National Parenting Product Awards), been voted a Top Five CD in the Nickelodeon Parents' Picks Awards, and has appeared on the Top Ten lists of NPR, People magazine, Time Out New York Kids, Fids & Kamily, Zooglobble, OWTK, and many others. His music has been in constant rotation on SiriusXM's Kids Place Live for more than a decade.
Randy Kaplan studied philosophy at the University of Michigan in Ann Arbor and holds a B.A. in English literature from UCLA. He is a certified high school English teacher and will soon receive his Master of Arts in Teaching degree (in secondary education) from Oakland University.
Trippin' Round the Mitten
is available at iTunes, Amazon, CDBaby, and at Randy Kaplan's live shows.