Book Review: Lala Pettibone's Act Two by Heidi Mastrogiovanni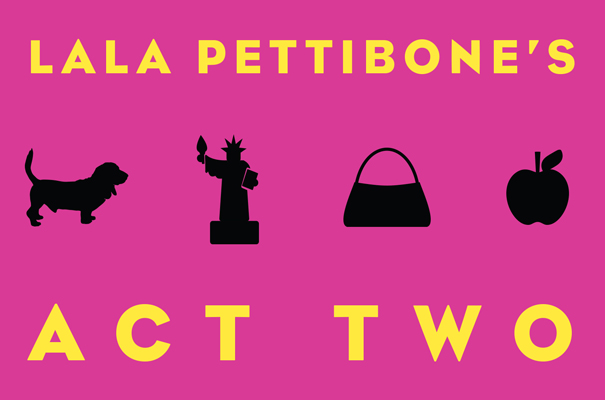 ABOUT THE BOOK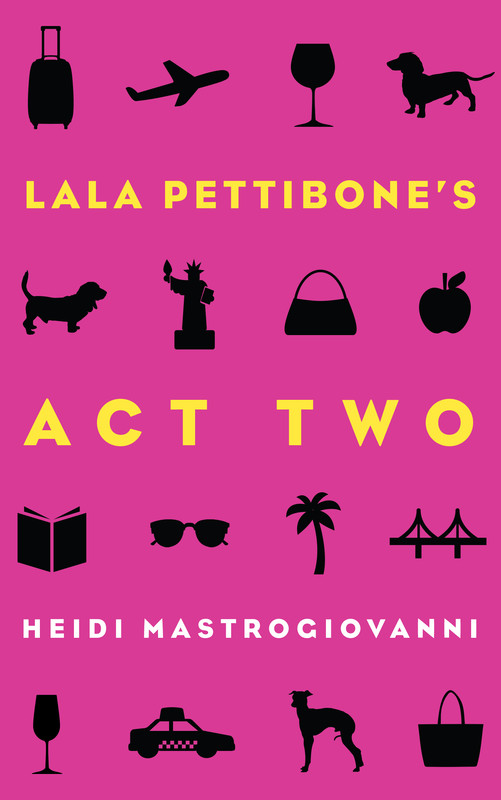 Lala Pettibone, a forty-something widow whose outrageous antics befit women half her age, has been imagining her sexy boss Gerard is as smitten with her as she is with him. Enter Gerard's fabulous girlfriend from Paris.
After spending the rest of the day drinking wine straight from the bottle, Lala attends the monthly meeting of her Greenwich Village co-op, where the residents are informed that a toxic wasteland in the building's basement requires everyone to pony up forty-grand by the end of the week.
Lala very reluctantly decides to sublet her apartment and make a bundle while visiting her Auntie Geraldine in Los Angeles. But good things come her way in sunny California, including inspiration to finish writing an uproarious novel based on her own ridiculous adventures.
Lala Pettibone's Act Two
is a wonderfully hilarious, second-coming-of-age-novel. Bridget Jones has absolutely nothing on Lala in the Late-Bloomer-With-Maybe-Lots-of-Potential-Department.
ABOUT THE AUTHOR
Heidi Mastrogiovanni is a dedicated animal welfare advocate who lives in Los Angeles with her musician husband and their three rescued senior dogs. She loves to read, hike, travel, and do a classic spit-take whenever something is really funny. Heidi is a graduate of Wesleyan University and was chosen as one of ScreenwritingU's 15 Most Recommended Screenwriters of 2013. The comedy web series she writes and produces, Verdene and Gleneda, was awarded the Hotspot on the Writers Guild of America's Hotlist.
Interview with Heidi
Q: What inspired you to create Lala Pettibone's Act Two?
A:
I absolutely love to make people laugh. And I love authors who make me laugh. I'm proud and humbled that I share a birthday with P.G. Wodehouse, one of the funniest and most charming writers I have ever had the great pleasure of reading. So a big part of wanting to write Lala's story was the desire to make people laugh.
And, having lived through great sorrow and having found new happiness (with the wonderful help of my incredible friends and family) after I was widowed at the age of 41, I wanted to write a story that might give people a sense that there is always hope for new beginnings.
The desire to have fun was also a big part of the inspiration to write Lala's story. I find that, more and more, I treasure making decisions about my professional life that bring me the most joy and fun. I have a good time writing about Lala. It was that way from the beginning. And I'm having such a great time writing the sequel to her story.
Q: There are a few nods to theatrical blocking directions in your book. Do you have a background in theatre? How did it help inspire you?
A:
I do, indeed. I majored in Theatre and German in college. I caught the acting bug in second grade, when I played the dormouse in my elementary school's production of "Alice in Wonderland."
I moved to New York City after college to work in the theatre. The only thing I didn't realize was that apparently you need to have actual acting talent in order to be an actor!
That sounds a little too precious and self-deprecating…
I was part of a wonderful sketch comedy group in New York for many years, and occasionally I was funny in some roles, but they had to be exactly the right roles for me. I didn't have the ability to make every role I was given real, and that's my litmus test for the kind of acting I admire. In "Manchester by the Sea," just as a recent example, the acting was so brilliant, I felt as though I was eavesdropping on real people's lives.
As an aside, I just have to add that there is film footage somewhere of a show the sketch comedy group did, and on it I answer a question before my partner in the scene finishes asking the question. Trust me, it is not pretty.
But working on stage made me very aware of how dialogue sounds, and I think this is an absolutely essential skill for a writer. Theatre and film and television are all a wonderful part of the storytelling world, and I am always inspired by beautifully written works in the performing arts. I truly think there is nothing more inspiring than seeing and reading stories about relationships and about change.
Q: What initially attracted Lala to Gerard?
A:
At the time Lala first met Gerard and had an absolutely instant attraction to him, she managed to bury the fact that Gerard looks like her beloved late husband's twin very deep in her subconscious. In fact, when her best friend points out the startling similarity to her, Lala thinks she's crazy…
Lala has excellent taste in men… Gerard is smart and funny and charming and he works in the world of words, Lala's favorite place to be…and of course there's also that fabulous French accent…
Q: What made you choose Los Angeles as Lala's destination of choice?
A:
That journey mirrors my own. I moved to Los Angeles after living in New York City for many wonderful years after college. Going from east to west in our vast country seems to me to be the quintessential pioneer's journey, and Lala's Act Two involves setting out to discover a new feeling of home for Lala when her tentative feeling of rebirth after the death of her husband is shattered. It was time for her to find a new beginning, and Southern California seemed to me to be the perfect place to turn her face back toward the sunshine.
It's also a way for Lala to come back to her roots, however reluctantly she does that. She grew up in Santa Monica and went to college on the east coast. She swore she would never go back west…and I enjoyed putting her in a position where she had to make going back "home" work for her.
Q: Do you see yourself in Lala or would you say you're both complete opposites?
A:
I very much see myself in Lala. We're alike in so many ways, both in terms of certain major aspects of our history and in terms of our values and idiosyncrasies. I was also widowed at an early age, and I also found love again, as Lala does. And I love to eat and savor wine and talk a bit too much, just like Lala does! We share a vast love of language and of senior dogs. We both love to take long walks and we love to exercise.
We're both only children, and we both never wanted to have kids of our own… We both always wanted to be the kind of crazy, fabulous aunt that nieces and nephews treasure. The list goes on…
Oh, and Lala and I both overuse ellipses in our writing…
Really, she's a younger version of me…with a fabulous apartment in New York, which I don't currently have, but I'm thinking about shopping for one…
Q: You have a background in screenwriting. How does writing a novel differ from writing a screenplay? Do you have a preference?
A:
There are many similarities and many differences. I love writing screenplays because I love writing dialogue. In the case of both forms of storytelling, I always want the journey to be about relationships and about change. And, for me, a story that I want to read or see has to have a hopeful ending, so I always try to put that in my screenplays and novels.
Both novels and screenplays are at their best, I think, when they convey a story that is rich and layered without being convoluted. I think it's essential to write in a lean style that is still full of nuance. I think anything that is over-written is hard to get through as a reader.
My current preference is novels, because I love what I feel is the freedom in the novel form to convey inner thoughts. Screenplays require a very visual approach and they, to a great extent, rely on what is happening in the moment to convey the story. But I truly do love writing both. I love spending time with words. I'm a voracious reader of novels and of screenplays, and I think any writer has to constantly be absorbing examples of their medium.
Screenplays generally have a three-act structure (though goodness knows there are a lot of screenplays that don't), and novels don't require that. But I actually really like the three-act structure as an audience member, so I tend to write prose with that structure in mind. I do think novel writing gives the writer more freedom to experiment because novels can be almost anything, whereas screenplays really do have to follow some kind of classic screenplay format. But I really do love them both!
Q: Favorite book-to-screen movie adaptation?
A:
It has to be "To Kill A Mockingbird." The actors are brilliant, and they created those unforgettable characters in a way that I can only think of as being like magic. Gregory Peck was incredible as Atticus Finch, and he earned a well-deserved Oscar for that performance. And the young actors who play the kids? Absolutely amazing.
Q: How do you think Lala would do on the big screen?
A:
I have to confess that I wrote it with a movie adaptation in mind. So I think and hope that it would do well on the big screen. I think of Lala as a slightly older, American version of Bridget Jones, and I have to say that I really enjoy watching and re-watching all the Bridget Jones movies.
I love romantic comedies that star smart, strong, vulnerable women who take a journey of change and growth. I'd love to think that the role of Lala would be one that brilliant comedic actors like Tina Fey, Amy Poehler, Julia Louis-Dreyfus, Kristen Wiig, Amy Schumer (and how great is it that we have a growing list of wonderful women starring in films!) would have fun with. Of course, if the always-fabulous Kate Winslet played Lala, it might be a form of revenge for an American actor playing Bridget Jones!
Q: Was there anyone in your life that was the inspiration for Lala or was she completely fictitious?
A:
Oh, I hope this doesn't sound too self-involved… I really was the inspiration for Lala… We have so many similarities.
I feel as though she's that friend you've spent so much time with, you are like twins sometimes. To a great extent, Lala's values and her outlook are just like mine.
The other female leads in the novel are very much inspired by women I know. Auntie Geraldine is inspired by one of my aunts. Brenda is a lot like my best friend. And several of the men in the book have counterparts in my life. There are a lot of people in Lala's world who are very dear to me, by association with real life and on their own as characters. I hope that comes through in the writing.
Q: The novel has much humor and wit. How big of a role does comedy play in your daily life?
A:
I'm going to be melodramatic and say that comedy is my life. Comedy and kindness…and alliteration…
The classic film "Sullivan's Travels" really encapsulates my idea of why comedy is so important. Joel McCrea's character is a successful producer who is mistakenly jailed. While he's in prison, he sees how much comfort funny movies bring to the prisoners. I think comedy brings solace, and I think it helps carry us through the challenging times.
I love words, and I love when words are put together in a smart and inventive way to make people smile. A great example for me is the Caption Contest in The New Yorker. The magazine prints a cartoon, and people send in caption ideas. I swear, I look at those cartoons, and I got nothing. I mean, no ideas for a funny caption. And then I read the three captions the magazine chooses for us to vote on, and they are brilliant and hilarious. It's both inspiring and humbling. And it's comedy. Seeing those captions always makes me smile. Smiling is a wonderful thing to do. Every day. As often as possible.
Q: What do you hope readers will take away from your book?
A:
That it's never too late to begin again. That there is nothing more important than kindness (especially to those who are most vulnerable, such as children and animals) and generosity. That it's possible to find new happiness after great sorrow.
That a short-waisted woman can find cute outfits to wear if she goes shopping with the right friends who will tell her the truth about which clothes don't work on her…
That too much champagne is never enough…
Q: Lala herself turns to writing her own novel in the book. What inspired you to begin writing Lala's story?
A:
Lala made me do it. I have a bit of what might be considered an odd way of coming up with ideas for novels and screenplays. I hear a line of dialogue, or I think of one, or I think of the name of a character, and that's where the process starts.
I honestly don't know why, but one day the phrase "Lala Pettibone, journalist to the stars" popped into my head. And we were off and running…
And Lala really did drive the story. She kept putting ideas and situations and dialogue in my mind. Her soapbox is my soapbox. Lala always wants to spread the word of being a caring and generous person, and she wants to remind people of how much those in vulnerable positions need our help…senior dogs being her (and my) primary example of that.
As I wrote Lala's story, and as I am now working on the sequel to "Lala Pettibone's Act Two," I honestly was inspired to write because I like spending time with her and with the people and dogs in her life.
Does that make me sound incredibly arrogant, given that I just wrote that Lala and I are like twins? Yikes; I hope not!