Two-Step Spa Day at Home
As the seasons change, so should our skin regimen. Less humid, cooler weather can mean dry skin for some. Even though colder weather calls for long pants and sweaters, it's important to keep your skin moisturized and smooth year round. Switch to a thicker moisturizer and start using a scrub to eliminate dry skin. Exfoliating and moisturizing on a daily basis will not only give you glowing skin but it can help eliminate the appearance of cellulite. By exfoliating the problem area you'll stimulate blood flow resulting in smoother, firmer skin. It's also important to exfoliate rougher areas of skin such as elbows, knees and hands as the skin on these areas tends dry out faster.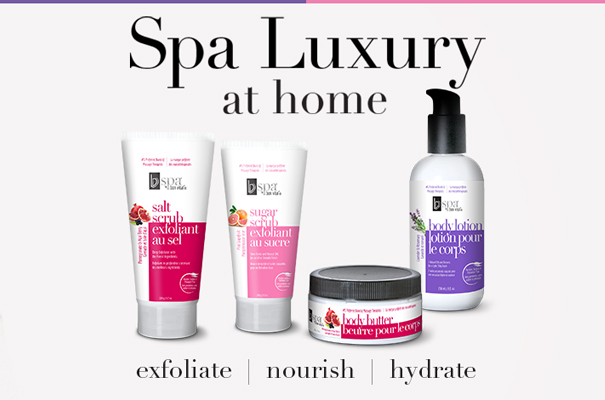 It's been a while since my last visit to my local spa, but I just don't have the time anymore. I love when I come out with super soft skin. For those with sensitive skin (like myself), exfoliation a key part of maintaining a radiant, natural glow. While spas offer sugar scrub treatments that will do the trick, one relaxing spa session won't be enough to achieve that refreshing look daily.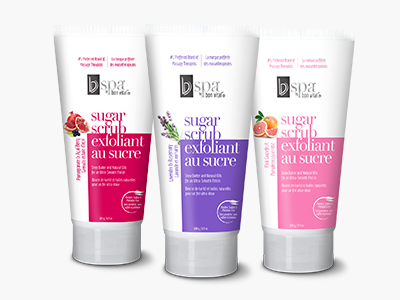 Luckily,
BVspa by Bon Vital' sugar scrubs
provide spa-grade luxury products for the home that are perfect for quick, everyday treatments. BVspa combines pleasing scents (Lavender & Rosemary, Pomegranate & Acai Berry, and Pink Grapefruit) with smooth buffing sugar crystals, safflower seed oil, and the jojoba oil that polishes, softens, and moisturizes the skin.
I had the opportunity to try two out of the three scents available. I received the
Pink Grapefruit
and the
Lavendar & Rosemary
sugar scrub.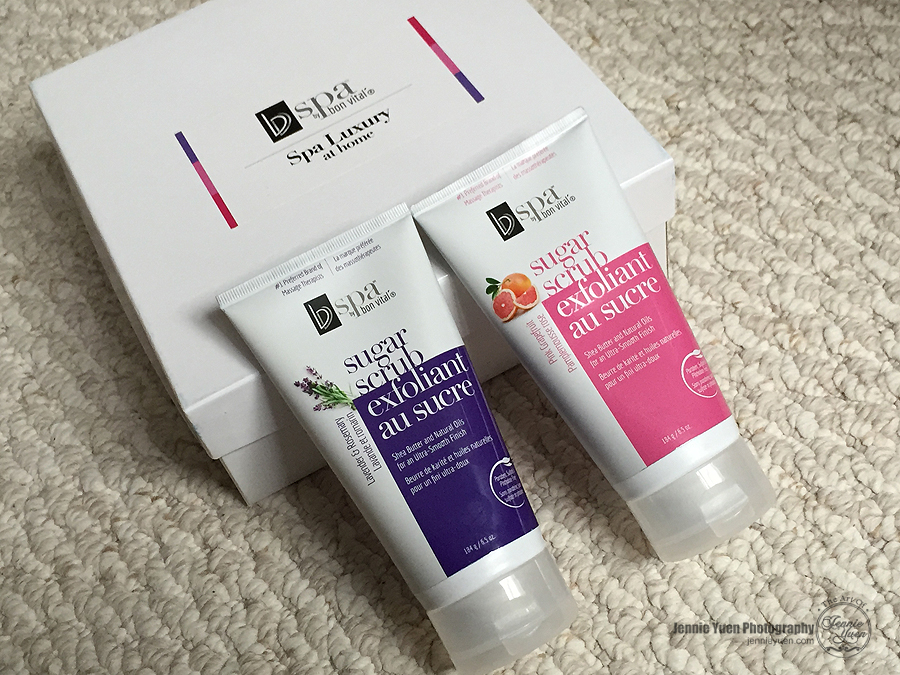 MY THOUGHTS: When I first opened them, I got carried away with the lovely scent and fell in love with the product. The paste was very thick. I was also kinda expecting some hints of pink/orange from the Pink Grapefruit and light purple from the Lavendar, but both were natural with no colour (which is a good thing). I've seen other brands of sugar scrubs with colouring which was a concern for me.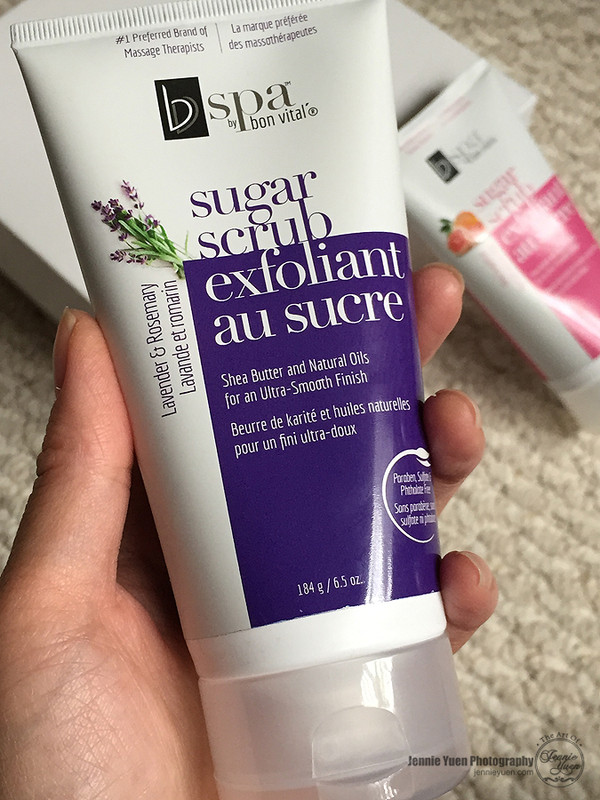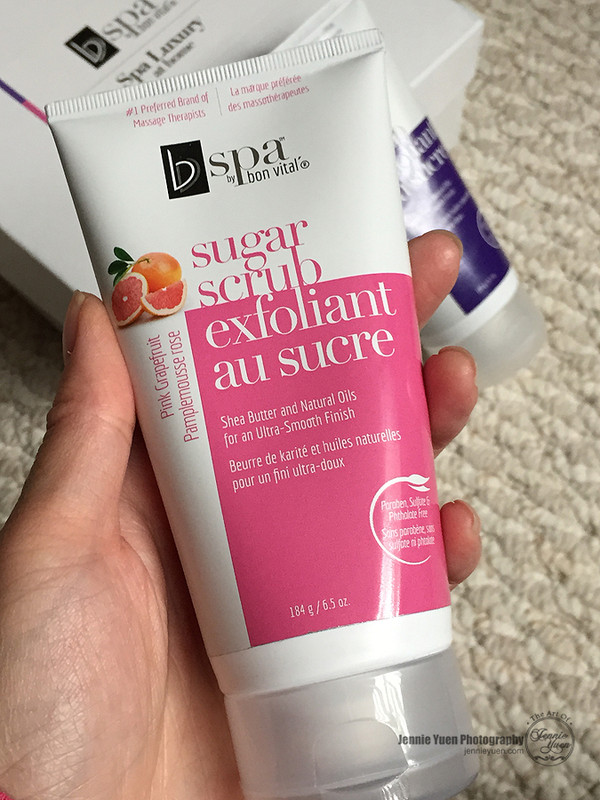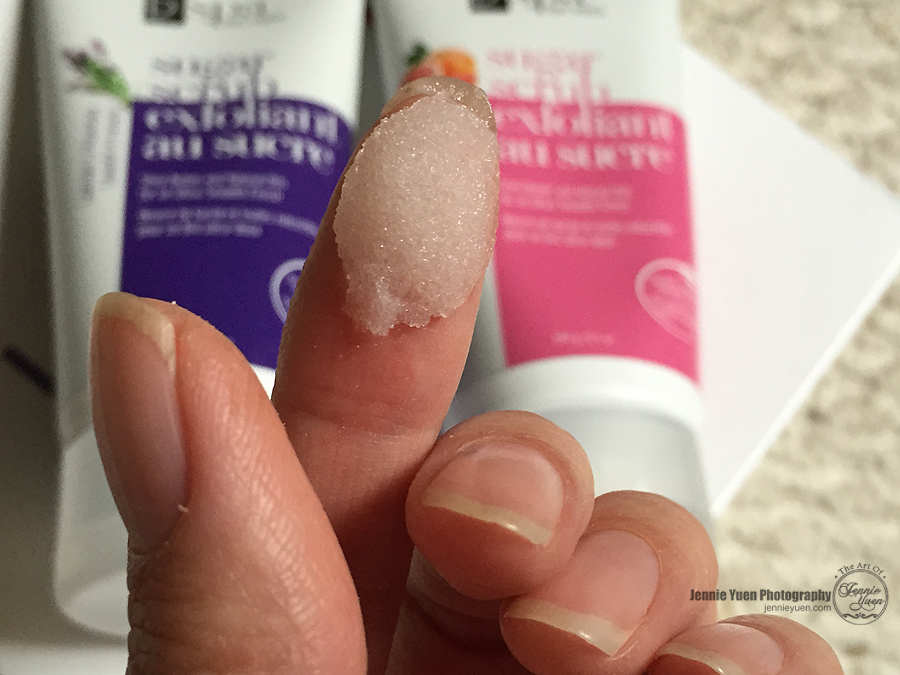 · STEP 1:
Gently apply sugar scrub to wet skin in a circular motion, concentrating on dry, rough areas of your skin. Avoid the face, sensitive areas, in cuts or on skin that is sunburned or irritated. Leave on for 3-4 minutes while the sugar scrub tightens on your skin. Then rinse with warm water.
· STEP 2:
After exfoliating, finish up with BVspa Body Lotion or BVspa Body Butter. Apply generously, and rub in gently.
Jojoba, Olive and Safflower oils are combined with sugar to scrub away impurities and dead skin cells and create a healthy glow to the skin. It is safe to use on all skin types. It is non-sticky and it rinses quite easily.
WHERE TO BUY:
Available at Shoppers Drug Mart for $11.99 each, BVspa makes it easy to exfoliate like the pros. Try out the two-step treatment, recommended for daily use!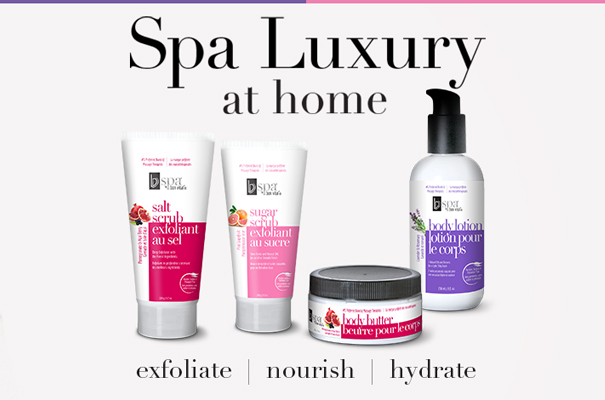 Disclosure: I received the above mentioned products at no charge in exchange for my honest review. My opinions are my own and may differ from those of other consumers. No other compensation was given.