Designer Chloë Angus Represented BC on Royal Visit
Vancouver-based fashion designer
Chloë Angus
was honoured to create
five gifts for The Royals
and their children during the Royal visit to British Columbia and the Yukon.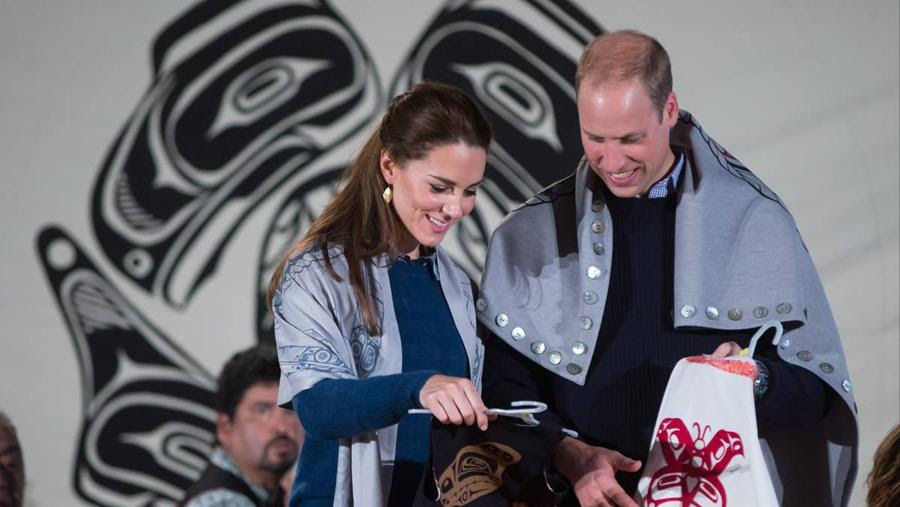 The garments, from the
Chloë Angus Design Spirit Collection
, are a long-running collaboration between the designer and First Nations artists. The first gifts to be presented were a matching set of silk bow ties for Princes William and George and Spirit Wraps with akoya shell buttons for Princesses Kate and Charlotte are all done with artwork by Haida artist Clarence Mills.
Kate's Wrap, a piece of wearable West Coast art, is emblazoned with a "Mother Bear" motif in a deep shade of sapphire blue. Both the design and colour were chosen in honour of Prince William's mother, the late Princess Diana.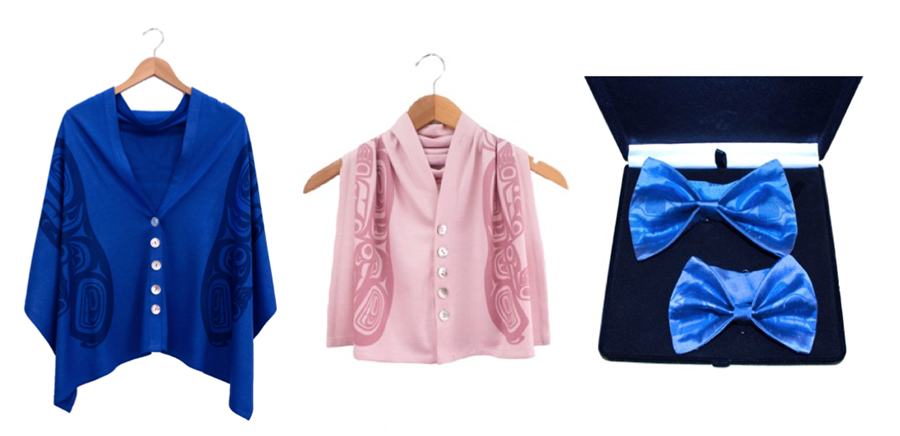 A symbol of strength and family unity in First Nations culture, the Mother Bear is often traditionally carved at the bottom of totem poles, denoting her strength in holding up the rest of family. The invocation of the Mother Bear is reserved for the most respected and high-ranking of guests.
Young Princess Charlotte received a child-sized Mother Bear Spirit Wrap in baby pink.
Angus has also collaborated with Heiltsuk First Nation artist KC Hall on a Spirit Blanket commissioned by the Chief, Marilyn Slett and a Spirit Blanket commissioned by Premier with a collaboration with First Nation artist, Clarence Mills. The blankets were presented to the Royal Family in a traditional gifting ceremony in Bella Bella, BC on Monday, September 27.
Chloë Angus Design is the exclusive wardrobe provider for BC Premier Christy Clark throughout the Royal visit.
About Chloë Angus
Born on the Sunshine Coast of BC and raised behind a sewing machine instead of a television, Chloë Angus has been designing clothes since she was a young girl. Pursuing an education at Vancouver's prestigious Helen Lefeaux School of Fashion Design, Chloë graduated with the intention of creating beautiful, classic, stylish garments for women who aspire to feel elegant in their busy lives. With designs that are as innovative as they are classic, Chloë believes first and foremost in beautiful silhouettes that accentuate all body shapes without compromising her inherent eye for style.
The wild and iconic landscape of British Columbia's West Coast has influenced Chloë's design aesthetic as have her neighbors growing up, the First Nation's people of the West Coast. Working with well-known Haida artist Clarence Mills before completing her Fashion Design education, Chloë learned hands-on about the timeless art and sculpture of the Haida people. Upon finishing school, Chloë immediately embarked on a project with Clarence to unite fashion with this uniquely West-Coast art as a way to showcase and embrace the culture for which she has such profound respect. The Spirit Collection was born and continues to develop and flourish with new designs, artists, and inspirations years later.
These days, ten years after the doors of Chloë Angus Design opened, Chloë can be found designing and conducting fittings in her local studio, catching up with old and new customers, dressing countless actresses/entertainers/performers at the annual Leo Awards, or walking her lovable miniature horse Sonny around the Dunbar neighborhood she calls home.
About Chloë Angus Design
Chloë Angus Design is a small and passionate company that thrives on making women look and feel beautiful. For ten years, the Chloë Angus Design team has been creating high-quality, elegant, chic collections out of the best fabrics available for women of all shapes and sizes. It is a thrilling and humbling opportunity to be able to collaborate and work with First Nations' artists to create the Spirit Collection. We constantly find inspiration in First Nations' history, art, and culture and have made it a priority to promote and share the important artwork that they create.
As a sustainable company, we take great pride in producing all our garments locally in Vancouver – if it has a Chloë Angus label, it was made by our hard-working neighbours down the street from our studio headquarters.
We are a group of dedicated women who are proud to be a part of a growing fashion company that prides itself on elegance, comfort, sustainability, and style.