CBC Musical Nooners are Back for 7th Season with a Themed Twist
The lineup is announced for CBC Vancouver's free, summer-long concert series,
Musical Nooners
, which returns to the outdoor stage at the CBC Vancouver Broadcast Centre on Friday, July 8th at 12:00 pm, with a performance from Vancouver-based pop-rock band, The Tourist Company. And also new this year – there will be 4 themed concert days. To see the full line up, visit
cbc.ca/bc
.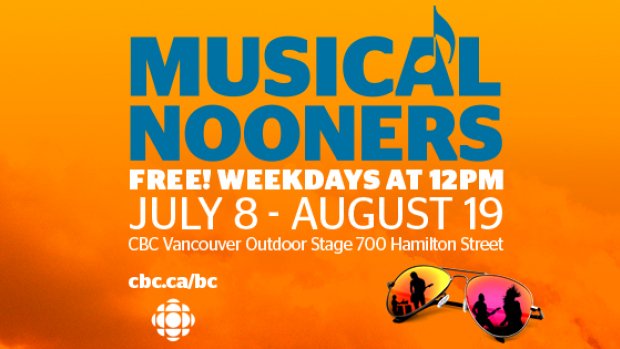 "It's such a pleasure for us to share great talent with audiences in the glorious summertime weather"
remarks Jon Siddall, lead producer for the series.
"The lineup this year features some of the top bands that every Vancouverite should have in their playlist."
The addition of themed days into this year's concert series adds some extra excitement, especially for winners for the VIP experience. There will be special seating and prizes for social media contest winners who follow CBC Vancouver on their social channels, on each of the themed days. Also, there will be a few surprises in store for audiences on these days.
"CBC Vancouver's Musical Nooners continues to draw large crowds, music fans who unite to celebrate summer,"
says Johnny Michel, senior managing director, CBC British Columbia and Alberta.
"By adding in some special themed performances this year, we hope to say thank you to the community who has supported these concerts for so many seasons."
Theme days are as follows:
July 8
– Opening Day – Leave your sandwich behind and pick up your lunch at the food trucks on site this day only! The Tourist Company performs with special guest Jordan Klassen.
July 12
– Kids' CBC Day – Children's performer Will Stroet of Will's Jams is on stage. Guests can mingle with popular Kids' CBC mascots SuperWHY! and Huckle Cat, make creations at the craft centre, do a scavenger hunt and get faces painted.
July 28
– Country Day – Enjoy a feel-good dance party with country artist Raquel Cole.
August 3
- Just in time for Rio 2016, celebrate Brazilian style with Aché Brasil and enjoy sports themed activities.
Now in its 7th year, the CBC Vancouver's Musical Nooners free concert series runs Monday - Friday, from noon to 1pm, at the CBC Broadcast Centre at 700 Hamilton Street (between Robson and Georgia) from July 8 – August 19.