AccuWeather and Spotify Launch "Climatune", Combining Weather and Listening Data to Reveal Perfect Playlists
AccuWeather, the global leader in weather information and digital media, announced it has partnered with the music streaming service, Spotify, on a new site titled Climatune. Climatune was created by AccuWeather and Spotify to give music fans around the world insights into how the weather around them affects the music they listen to everyday, providing the perfect musical score for any weather.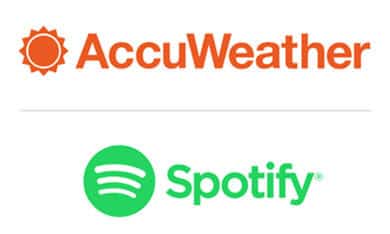 Through a yearlong study comparing 85 billion anonymized streams on Spotify in over 900 cities nationwide, AccuWeather and Spotify analyzed the impact weather has on the music people listen to. Conclusions included:
* Sunny days typically encourage listening to happier and higher-energy music.
* Rainy days bring lower-energy, sadder-sounding music with more acoustic vs. electronic sounds.
* Snowy days encourage more instrumental music.
However, there are variations in weather/listening behavior based on location. For example, in the U.S.:
* New York City and Philadelphia listeners are the most affected by bad weather; with residents of these cities substantially changing their listening when it rains.
* Chicagoans get excited by the rain and stream happier music.
* Miami and Seattle listeners buck the trend and listen to more energetic music on cloudy days.
* San Franciscans, on the other hand, seem saddest on cloudy days.
* Houston responds the most strongly to rain, with acoustic listening increasing by 121 percent when it rains.
"There is a clear connection between what's in the skies and what's on users' play queues," said Spotify data researcher, Ian Anderson. "For almost all of the major cities around the world that we studied, sunny days translate to higher streams of happier-sounding music," said Anderson. "Sunny weather has an even bigger impact in Europe."
"AccuWeather is pleased to partner with Spotify, combining the power of AccuWeather's comprehensive global weather data and music," said Steven Smith, President of Digital Media at AccuWeather. "Climatune is another innovative, engaging way that AccuWeather personalizes the weather so people can improve their lives."
Climatune provides Spotify users with music playlists based on the weather in that user's area, and the moods which fellow local music listeners experience during weather conditions, such as sun, clouds, rain, wind, and snow.
The Climatune site is available
here
.
AccuWeather gathers the best and most comprehensive weather data to deliver forecasts with Superior Accuracy™. Forecasts are pinpointed for every location on Earth and extend further ahead than any other source. With the most complete global real-time and historical data, most robust database of forecast models, most advanced forecast engine globally, patented proprietary technology, and comprehensive validation results, AccuWeather is the most accurate weather company worldwide. AccuWeather saves lives, protects property, and helps customers and the public prosper.
AccuWeather Enterprise Solutions' D3 Analytics takes the most complete global real-time and historical weather database correlated with customized data sets by client using proprietary statistical analytics and predictive modeling. AccuWeather uses its Superior Accuracy to make predictions for logistics, sales planning, inventory control, and more, providing the most actionable, customized data driven decisions for businesses, partnering with the world's leading brands.
Visit
www.AccuWeather.com/EnterpriseSolutions
for additional information.