The Photographing Tourist: A Storyteller's Guide to Travel and Photography By David Noyes
It is award season in the independent book publishing business and first-time author and publisher David Noyes has been collecting high praise for,
The Photographing Tourist: A Storyteller's Guide to Travel and Photography
(November 3, 2015). The growth of small publishing houses and self publishing has provided authors an opportunity to get their books published like never before, and with the fall and Christmas book season just around the corner, independent book awards are one way for new talent to be discovered.
APEX Awards are based on excellence in graphic design, editorial content and the ability to achieve overall communications excellence. APEX Grand Awards honor the outstanding achievement in publication excellence and have awarded
The Photographing Tourist
with a Grand APEX Award for Print Media in 2016. "A massive and spectacular tour de force. Stunning photography -- coffee table book-style -- which is at once tutorial and fascinating travel journal through many lands, peoples and continents," wrote the APEX judges. "If this doesn't get you down to the passport office, nothing will!"
Awards for
The Photographing Tourist
include:
► 2016 APEX Awards for Publication Excellence
Grand APEX Award in Print Media 2016
Foreword Reviews' IndieFab Book of the Year Award
► Bronze: Photography
Finalist: Travel
Next Generation Indie Book Awards:
► First Place Grand Prize Winner for non-fiction
► Gold: Coffee Table Book/Photography
► Gold: Travel/Travel Guide
► Gold: Best Overall Design Non-Fiction
Independent Book Publishers Association —Benjamin Franklin Awards:
► Silver: Interior Design
► Silver: The Bill Fisher Award for Best First Book (Nonfiction)
Independent Publisher Book Awards (IPPY)
► Bronze: Travel Essay
North American Travel Journalist Association (NATJA)
► Gold: Travel Book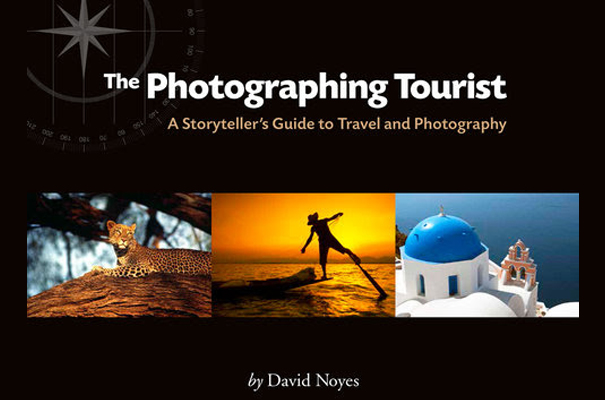 Beautifully illustrated with more than 300 photographs from around the world, and featuring twelve magazine-style travel narratives,
THE PHOTOGRAPHING TOURIST
takes you on a journey to remote corners of our fascinating world. Through a blend of tips, techniques, advice, anecdotes, and stories, Noyes will help you develop the well-trained eye of a travel photographer and inspire you to explore new places and cultures in more depth than a simple snapshot can reveal.
THE PHOTOGRAPHING TOURIST explores the photographic challenges of traveling on a guided or escorted tour—the "tour" in tourist. For a photographer, traveling as a tourist presents many challenges, the most significant is the constraint of an itinerary. "Meet back on the bus in 30 minutes" are dreaded words if you hope to create beautiful photography in an unfamiliar place. That doesn't mean that you can't produce great photography on a tour; it just means you need to appreciate your travel experience and make the most of the thirty minutes, hour, or two hours you have before moving on to the next location.
Filled with Noyes' stories about isolated cultures, exploring local life, and challenging personal adventures, this storytellers guide to travel and photography reads like an eight-month collection of your favorite travel magazine. From environmental portraits and local lifestyles, to landmarks and sacred places, the chapters explore different photographic subjects that a tourist photographer will encounter. Sprinkled throughout the book are also technical shorts with valuable information on elements of design, composition, depth of filed, exposure, using lines, and developing a point of view.
The Photographing Tourist was written to be a timeless book that is as much about the experience of traveling as a photographer, as it is the techniques of travel photography. You will learn to think differently about travel and photography and to investigate a destination as part of the human condition. Above all, this book will encourage you to truly cherish your chance encounters as you photograph the world.
ABOUT THE AUTHOR: DAVID NOYES

As a travel writer and photographer,
David Noyes
has been fortunate to visit some of the world's great places and has been touched by both the beauty and tragedy of the human condition. He has received numerous awards for his photography and travel writing including the North American Travel Journalist Association (NATJA) Travel Photographer of the Year, three consecutive years, and two prestigious Lowell Thomas Awards for excellence in travel journalism.
A graduate of R.I.T. and Harvard University, David started his career as a corporate and advertising photographer. He was also the founding publisher and editor of two award-winning lifestyle and travel magazines, including AAA Western and Central New York's membership magazine. In 2013, David launched Innocent Eyes Project, Inc., a United States-based nonprofit corporation that supports child education programs in the developing world. He lives in Buffalo, New York.